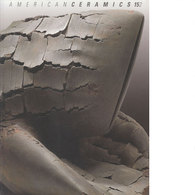 Daphne Merkin
American Ceramics
Volume 15, Number 2: 70
"By not putting away childish things, Undine Brod's sculpture triumphantly circumvents arid postmodernist strategies for a direct and blessedly unironic engagement with her subject. Although primarily constructed of clay, Brod has added a variety of mixed media, including recycled doll parts, fabric and industrial detritus to complete her aesthetic statements.
The sculptures convey narratives that are casually powerful in their effect, imbued with a sophisticated sense of whimsy that calls on both the lingering delights of childhood---in color, in play, in making metaphor come alive---and the besetting demons of adulthood, in which danger and terror lurk behind the cozy confines of the familiar.
One thinks of Alice in Wonderland, lost in an upside-down universe, where the Queen of Hearts shrieks: Off with her head! There is a nursery excitement to Undine's vision as well as a disturbing sense of vulnerability to unaccountable external forces. Violation awaits in the wings, always acknowledged, but often adroitly undercut.
Her work puts me in mind of a faux naif tradition of creative inspiration that includes artists as various as Louise Bourgeois and Mike Kelly; she, like them, seems to remember what others of us have chosen to forget.
Everything she has felt and seen and heard on the scarring journey to becoming, as the title of one of her sculptures,
All Grown Up
, explains, finds its expression in her work. Her sculptures remind one that it is in the nature of life to carry us away from our primary color beginnings. With sly and poignant craft, Undine Brod's narrative art reminds us of how we continue to be shaped by what we have put behind us. "
---